Glorious scenery in court when Genji is born is expressed in a layered collar of ceremonial kimono design.
王子誕生に沸く、華やかな宮中の様子を十二単の襟もとで表現
Code:KL-G001
CATEGORY: Genji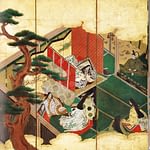 Genji, the main character is born as the second son of emperor, Kiritsubotei. His mother is Kiritusbono Koui who had received his complete love in the imperial court. With such joy, gorgeous attire and costume accessories are prepared. Genji was beloved by his father, the emperor, as much as his mother, though her life did not last long because of the jealousy among other ladies.
-Kiritsubo story-
主人公、光源氏の誕生。桐壷帝の第2子として。
母親は、宮中で帝の愛情を一身に受けていた桐壷更衣。帝は喜びのあまり自ら指示を出し、華やかな衣装や道具の準備をする。そして、源氏は、他の妃からの嫉妬で他界する母と同じ様に、帝に愛されて育つ。
桐壷の帖より