Like Utusemi who hesitates to see Genji and his good friend, a general who also is attracted by the same woman that Genji loves, the comical human drama is expressed here.
光源氏に会いたいけど会えない空蝉。ひとりの女性を巡る源氏と親友の頭の中将。などの人間ドラマをコミカルに表現。
Code:KL-G004
CATEGORY: Genji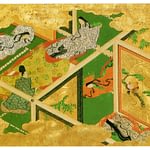 When Genji approached Utsusemi, she knew she was fascinated by his young and noble appeal but repressed her feeling and disappeared leaving her thin coat behind. She was grieving deeply without being loved by Genji.
-Utsusemi story-
源氏が会いに来たことに気づき、その若く高貴な魅力にひかれながらも自制し、薄衣からするりと逃げ出す空蝉。空蝉は源氏の愛を受け入れられない身の上を秘かに嘆いた。
空蝉の帖より